Welcome to Camp Sequassen!
If you're looking for something fun and exciting this summer, look no further than Camp Sequassen. 2019 marks the 92nd year that we've been delivering strong Scout programs to troops.  Your time at camp will be a very personal experience of learning, having fun and growing in mind, body and spirit in the presence of hundreds of your fellow Scouts.  Whether it's because of the camp's staff, the camp's lore, the camp's surrounding natural beauty or the quality of the camp's programs, a week at Camp Sequassen will make an impression on you that will last a lifetime.
New unit registrations require a $200 non-refundable unit deposit.  The $200 fee should be applied as a credit to the unit's individual Scout/Scouter registrations when they are entered.
March 31, 2020 is the deadline for entry of Scout rosters.  At that time, a unit will be responsible for a minimum payment of $50 per registered Scout. To be eligible for the Early Bird discount, full Scout fee must be received in the Council office by the April 1 deadline.  Fees paid after April 1 are at the regular rate and the balance is due no later than the Troop's pre-camp meeting date, approximately three and a half weeks prior to the start of the appropriate camp session (check the Leader's Guide for the pre-camp meeting schedule).
Online payments may be made by credit card or electronic check.  If your unit prefers to submit payment(s) to the Council office, please plan to do so in advance of entering your roster online.  Fees submitted to the Council office will be entered as a unit summer camp registration credit that you will be able to draw against as you enter your Scouts and Scouters online.  Roster entries entered without payment will be held in your "cart" until payment by credit card or electronic check is authorized.
Please note that, while you may enter campsite preferences, site selection cannot be guaranteed.  A unit must commit to attending with a minimum of 10 Scouts to reserve an individual site.  Units that plan to bring fewer than 10 Scouts may still register and indicate site preference but will not be assigned a site until other units' camper numbers can be determined.
2020

 Camp Sessions
| Week | Dates |
| --- | --- |
| Week 1 | June 28-July 4 |
| Week 2 | July 5-11 |
| Week 3 | July 12-18 |
| Week 4 | July 19-25 |
| Week 5 | July 26-August 1 (Eagle Week)  |
| Week 6 | August 2-8 (Eagle Week) |
Week 7         August 9-15 (Eagle Week)
2019

 Camp Fees
Type
Amount

ScoutsBSA Resident Camp

Provisional or Out of Council Scouts

Second Week or Second Family Member

Special Discount Pricing for Scouts attending 3 or more weeks

Additional Fee for

Participation in:

Discover Adventure Program (Scouts 14 and up)

Eagle Week Program

SCUBA merit badge (not offered all weeks)

$50 (added to appropriate base fee)

$40 (added to appropriate base fee)

$275 (added to appropriate base fee)

Adult Fee

$125 (Two adult leaders free with 10 Scouts. One additional leader free with each additional 10 Scouts.)

Unit Deposit

$200
Discover Adventure Progam
A program for Scouts and Venturers ages 14 and older
This high adventure event is for young men and women, 14-20 years old. The Aquatics, Climbing and Shooting Action Centers offer a wide variety of activities and challenges. Check out SCUBA diving, snorkeling, tubing on the Farmington River, climbing, high wire course, archery, rifle/shotgun shooting, and more!  There's event time to get in a few merit badges if you like.
Select Discover Adventure as an option when you register for Scouts BSA resident camp either with your troop or come to camp for a week with a buddy or on your own.  Don't forget to check out our special multi-week discounts!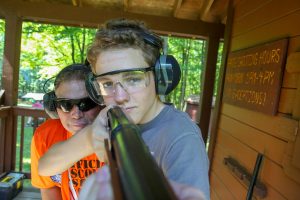 Forms & Guides
2019 Campership Application Form (PDF) (deadline – May 1, 2019)

         Participants at Summer Camp are required to submit Parts A, B, and C of the BSA Annual Health and Medical Record, valid through the end date of the appropriate camp session. This applies to both youth and adult attendees. Youth campers also need a completed Connecticut Yankee Council Addendum.

Please note: SCUBA participation requires an additional health form available below.

2019 SCUBA Participant's Packet   

Thi

s the only acceptable packet for SCUBA merit badge participation
NOTE: SCUBA participants must supply the included RSTC Medical Statement, signed by          their physician,in addition to the regular camp health form.
Payroll Documents
Staff Manual – available soon
Resident Camp Health Form — available on "Forms" page