Tuesday, November 20, 2018
6:00 PM – 9:00 PM
Villa Bianca
312 Roosevelt Drive, Seymour, CT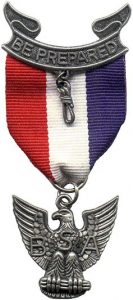 The Connecticut Yankee Council is proud to recognize the 2017-2018 class of Eagle Scouts at our annual Eagle Scout Recognition Dinner at the Villa Bianca in Seymour, CT.  During the evening, we will recognize these young men for their achievement, as well as pair them up with adult mentors to share experiences and give guidance as the Scouts begin to make plans for college and/or career.
Mentors — As an Eagle Scout Mentor for the evening, you will sit with one or more of our Scouts, learn about their projects and Scouting experiences and share your own professional background and experiences. Anyone can be a Mentor. Cost: $75 – Includes your meal and underwrites the cost for one Eagle Scout to attend, and a program listing.
Parents — Please email up to three pictures of your son's Scouting experiences to be included in the dinner presentation and an individual picture of him in field uniform. Indicate your son's name and Troop number and send pictures no later than November 13, 2018, to christina.morrell@scouting.org.