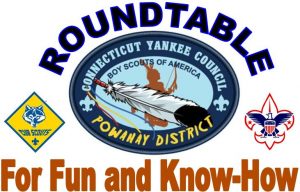 Roundtable is a form of commissioner service and mini-training for volunteers at the unit level. The objectives of roundtables are to provide leaders with program ideas, information on policy, upcoming events, training opportunities, problem-solving, and networking.
New Location — Lapham Community Center, At Waveny Park, 633 South Ave., New Canaan Directions at https://laphamcenter.org/welcome_directions.pdf
A new feature for Roundtable — BSA Safety Moment.  Safety Moments are exactly what the name implies: opportunities to prepare for an activity, review safety measures and report incidents correctly.
September 4, 2019
New Program Year Kick-off
7 PM Start
  Join us for a Round-robin information session including Training, Cub Activities, Troop/Crew Activities, Membership, Popcorn, Advancement, FOS, and Commissioner Service — Units should send at least two representatives because there will be so many tools, information and resources that one person can't digest it all!
Joint Session:
BSA Safety Moments:  Roadside Fatality-Austin's Story. Transporting Scouts safely
Split Sessions:
Cub Scout Packs: Fall Recruiting, Fall activities, hiking, and using monthly meeting themes.
Scouts BSA/Crews: Fall Camporee, Recruitment events, Youth Leader Training and advancement updates