Scout Day at Lime Rock

This event has been cancelled due to COVID19 restrictions
please join us next year
October 2-3, 2020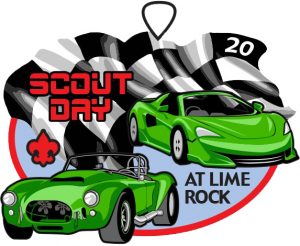 A favorite annual event of Cub Scouts, Boy Scouts, Venturers and adults, there is no better way to spend an early Fall weekend than camping out and enjoying a Saturday of racing at Lime Rock Park.
Saturday's races will provide hours of racing excitement, featuring Vintage Sports Car Club of America's Fall Finale as well as the exotic sports cars of the Lime Rock Driver's Club.  Come see vintage and collectible sports cars of all types spanning many years of automotive history – all in tip top condition and in action on the track.
For specific information on these groups:
Click here for VSCCA video on YouTube
Click here for the Lime Rock Driver's Club website
Cub Scouts/Scouts/Venturers and youth not registered with BSA, 4-16 years old — $7 each
Scouts/Venturers/Adults and older youth and adults not registered with BSA, 17 years and older — $15 each
(Please enter ticket quantities for BSA members and non-BSA members in separate categories online.)
Register by September 18, 2020 to have your tickets mailed to you.
From September 18 through noon on October 2, tickets may be ordered online and picked up at the Milford Scout Office, Monday-Friday, 9 am-5 pm.
If you are picking up tickets for a group, you will want to distribute to your families prior to arrival at Lime Rock.  All cars must have tickets for their occupants in order to enter the Lime Rock gate.  If you are meeting your group to distribute tickets on site, you will need to wait for your families outside of the entrance, not in the camping area.
Patches are available for the first 1000 registrants
Event is held rain or shine 
No refunds after September 11

Order tickets for mailing through September 18.
From September 19 – October 2, noon, order tickets to be picked up at the Milford Scout Office during business hours.
Information Letter – available in August
Questions? – contact Carolyn, ccruson@bsamail.org
*After Sept. 18, tickets will still be available.  Any registrations received in the Scout Office by close of business, 5 pm, Friday, Sept. 18 will be mailed out on Monday.  Starting Monday, Sept. 21 at 9 am, order tickets online for pick up, during business hours, at the Milford Scout office through noon on October 2.