Youth like to challenge and test their abilities. Getting trained as a COPE (Challenging Outdoor Personal Experience) Level 1 and/or Climbing Instructor and help us offer more opportunities.  COPE Level 1 instructors may be called on to assist with the running of COPE and
Climbing programs between August and June and can act as one of the instructors if their troop or crew chooses to use either area.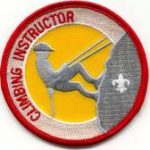 When:  April 27&28, 2019
Where:  Camp Sequassen, 791 West Hill Rd, New Hartford, CT
Cost: $250 per participant
                                               *Must be at least 18 years old.
Instructors:  Aerielle Smith and Jacob Werman
Contact Aerielle Smith for more information