2019 University of Scouting
A Great Day of Adult Leader Training
PLUS…Training for Venturers & Explorers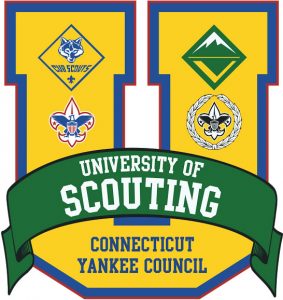 What is University of Scouting? UoS is an all-day event focused on providing lots of Supplemental Training classes for Adult Leaders and Venturers. Over 150 class offerings are included in our catalog, focused on all programs (corresponding to the five "colleges" in the UoS): Commissioners, Scouts BSA, Cub Scouts, and Venturing & Exploring, as well as a broad range of General Studies courses that cut across all program lines. Learn how to sing songs, tie unique knots, successfully recruit more youth, plan an amazing outing, run an awesome unit meeting, and fix unit problems that never quite get solved in the all too frequent "parking lot" meeting after the meeting.
University of Scouting includes a complete Commissioners' College.
How do I sign up? First, review the UoS Course Schedules. Once you have selected your classes, go to the online reservation system. You will register for classes, tell us if you need FREE child care for the day, identify any dietary issues, and pay for the day. The course offerings are listed across five different "colleges". HOWEVER  –  ANY adult participant can take ANY class in ANY college.
Contacts: The members of our staff of the UoS are here to help, answer questions, and make course participation at UoS as informative (and as FUN) as humanly possible. Do not hesitate to contact us.

For the Latest Information, Updates
Questions AND Answers
Visit us on Facebook

.
Location: Foran High School, Milford, CT
Thank you for your dedication to effective Scouting. Your participation in this training event illustrates that you care about the quality of the Scouting program that you are able to deliver for the youth whom you serve. The ability of Scouting to make a difference for our youth depends on volunteers like you who participate in training programs to seek broader knowledge and continual improvement. This event provides the broadest variety of Scouting course offerings under one roof available for Scouters and Scouts in our area.
Please enjoy your visit with us today. Absorb all that you can, and then relay what you have learned back to your units and districts. This is your primary responsibility as a UoS participant. But please don't stop there. Scouting needs you to help our program be even more effective next year. There are three key ways that YOU can help. As a UoS participant, we have the following requests to ask of you.
Feedback is a gift. Your feedback for each class taken and for the UoS as a whole helps to guide the staff to improve the program for next year. Any and all constructive feedback is greatly appreciated. We will email a link to an online survey after UoS is completed. Please complete the evaluation form for each course to let us know what you liked and what you didn't. The gift of your feedback enables us to ensure that we continue to meet your needs as a Scouting leader. And if your instructor did a good job, remember to say "thank you".
Spread the Word. Did you know that it takes almost the same time for the staff to prepare this event whether we draw 175 or 575 participants? Or that it takes our instructors the same time to prepare whether 3 or 23 participants register for the class? Therefore, the effectiveness of this event to have a positive impact on the youth in Scouting is directly proportional to the number of seats filled in the classrooms. YOU are our best channel for promotion. If you are interested in being a participant, so might others in your unit and in your district. So tell others. Please. And bring a friend (or two or five) to this year's UoS.
Share what you know. What's the difference between a faculty or staff member and a class participant? NOTHING! We are all Scouting volunteers. All staff members have "real" Scouting jobs just like you. And we are ALL attending UoS to learn. For any individual course to succeed, we need and want an exchange of ideas. Very few of our classes are designed as one sided lectures. So ask questions and share your ideas during class. Don't simply attend UoS, please, please, please PARTICIPATE.
Dress Code: The full BSA field uniform (AKA Class A Uniform) associated with your unit and program is the appropriate attire for all UoS participants and faculty. For members of unit committees or unregistered parents – the proper attire is what you would wear to one of your unit meetings. Please note that some classes will be held out of doors, rain (snow) or shine. So BE PREPARED for the weather. Remember, this is New England….in March.
Cell Phone Use: Cell phone courtesy is expected at all times. Texting during class is prohibited (please) and phones must be on vibrate-only mode (unless you have a child in child care; in that case, please leave your phone on at all times). We know that life does not stop while attending a Scouting event. If you must make or take a call, please exit the classroom quietly. Note that the UoS staff may use their cell phones for urgent communications during the event. This is key to our event day communications.
Entry: Wheelchair access is available to all floors of the school.
Code of Conduct:  All participants, staff, and guests are expected to conduct themselves in accordance with the principles set forth in the Scout Oath and Law. Scouts (and Scouters) always leave their environment better than they found it and we encourage everyone to clean up after themselves and others. We need your help in practicing Leave No Trace throughout the day. Youth protection measures are in effect at all times.
Last Updated: January 23, 2019
First, THANK YOU for agreeing to serve as a valued member of the faculty of the University of Scouting. Your subject matter expertise, experience as a trainer, and your enthusiasm are each critical to the success of our program.
At your earliest convenience, please register online for UoS. As part of your registration, please actually register for the class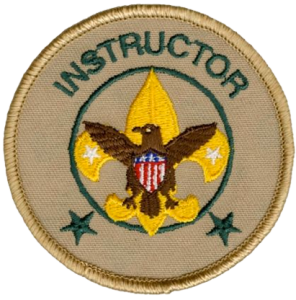 or classes you are teaching. If you are sharing teaching responsibilities with another leader, BOTH of you should register for the class(es). Note: during each class period registration, there is a choice for "Faculty or Staff"; if you are teaching in any period – do not select ""Faculty or Staff". Do select and register for each class you are teaching.
When you aren't teaching a class, you are welcome, indeed – encouraged – to register for classes as a participant.
Contact your Dean, ASAP, for any special requirements you have for your class, such as special electronic equipment, internet access, extra desk or floor space, or a special out of doors setting.
In general, you should assume that all indoor classrooms will be equipped with a computer projector and screen. If you have a presentation or video to show as part of your class, you should plan to provide your own laptop computer. Again, contact your Dean, ASAP, if you cannot provide your own laptop.
Also, it would be EXTREMELY HELPFUL if you could bring your own video cables; all projectors in the school use an HDMI connection. While we cannot guarantee that your cables will work in all classrooms, bringing your own cables increases the chances that your technology will work. Our crack IT staff will have a limited number of extra HDMI cables. AND to be (fully) prepared, please bring a copy of your presentation on a USB flash drive. That way, if your laptop doesn't work or doesn't communicate with the projector, we will locate a spare laptop for your use.
On the day of the event (Saturday, March 16, 2019), please check-in. There will be a separate faculty/staff check-in area at the rear of the cafeteria at 7:30 AM. At check-in, you will pick up your room assignments, class attendance lists, as well as your own registration confirmation for all classes you registered for (including the classes you are teaching). If you are teaching a required course, we will have pre-printed "Trained" cards for you to distribute to your participants.
And for all required courses, the UoS Registrar will ensure class attendance lists are recorded in ScoutNet. So, if there are any changes (adds or drops) from the class list you picked up when you checked in, please give it, or better yet, email or text a photo of it to the registrar.
Please don't hesitate to contact any member of the staff with questions or concerns.
Once again, THANK YOU VERY MUCH for serving as a member of the Faculty for UoS. You are making a difference.