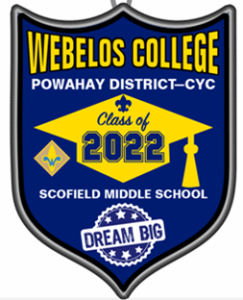 Powahay's 11th Webelos College
Scofield Magnet Middle School, 641 Scofieldtown Rd, Stamford CT 06903.
Welcome to Powahay's 11th. Webelos College with a return to Scofield Magnet Middle School, 641 Scofieldtown Rd, Stamford CT 06903.  We continue our Dream Big Fall Theme encouraging Scouts to explore their interests and passions.  In the words of Dr. Seuss… "Why fit in when you were born to stand out? "  Join us for a action packed morning of earning adventure pins, special programs, and a pizza lunch.
Special Guest — John Higby—The Yo-Yo Guy! BSA has added a Yo-Yo Preview Adventure Pin. This preview adventure gives Webelos Scouts the opportunity to learn the concepts that make a yo-yo work and the basic physics of a pendulum. We are bringing in Yo-Yo entertainer John Higby to highlight this new pin as an opening show. John Higby is the Yo-Yo Guy! He has performed his unique high-energy comedy yo-yo show in 26 countries…  holds the world yo-yo champion title and 4 Guinness World Records. The Yo-Yo Guy is an interactive performance with yo-yos, unicycle, and a giant yo-yo that John walks on! Specializing in family shows, this show is great for all ages!"
Offering 9 Adventure Pins: Click on Adventure pin for the requirement workbook — also found in the Webelos Handbook
Art Explosion
Webelos can sign up for two pins.
Schedule:
8:15 AM Check-in
8:30 AM Opening Ceremony
8:45 to 9:30 Opening Yo-Yo Show
9:45 AM to 11:00  AM 1st Session
11 AM to 12:15 PM 2nd Session
12:15 to 12:45 PM Closing & Lunch
(All Scouts must be picked up by 1 PM)
Optional Program:
Play Chess— AOL Webelos can select instead of a Webelos Pin to play casual chess for 1st Session or participate in a chess tournament 2nd session.  Sign up through the registration link.
Please Note:
A parent must accompany each Webelos, or a parent-approved adult (Den or Pack Leader, other parents, etc.). These arrangements are made through the Pack.
Due to classroom size limitations, COVID-19 guidelines, and distractions to teaching the class — parents are discouraged to attend their son/daughter selected class unless there is a special need. Parents can hang out in the UConn main atrium.
This is a Webelos event only — other Cub Scouts and siblings should not attend.
Special Early Fee of $15.00 if paid by Monday, October 24, 2022.
$20.00 Regular fee after October 24. While everything is going up in price, we are offering this program at a reduced fee.
CLICK HERE To join our email list for updates.
YiS,
John Hanks, Powahay Vice-Chairman Program