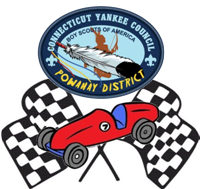 Pinewood Derby Championship  & Scout Day at Stepping Stones Museum For Children
Mathews Park 303 West Ave, Norwalk, CT 06850
Saturday, March 30, 2019 — Fun Starts at 10 AM
Start your Engines — Powahay District Race Day
Powahay District invites our Cub Scout Families to the Annual Pinewood Derby Championship at Stepping Stones Museum For Children. Fun for the entire family! And, you don't have to race in the Pinewood Derby to attend! Cub Scouts families can enjoy all the fun Stepping Stones offers – from exhibit-themed activities, arts and creative play to story times, sing-a-longs, active play and more. All of this while the Pinewood Derby races are taking place. Discounted fees and special programs.
Fees:
$15/Pinewood Derby Racer
Free parent (one per race child)
$10 for any extra adult or siblings
$25/Adult Racers—to support BSA
Fees include Pinewood Derby Race, patch, various awards, and entrance fees to Stepping Stones.
Pinewood Derby Schedule 2019
10:00 am Museum Opens
Lions/Tigers: 10:15 am Check-in — 11:00 am Race
Wolves: 11:00 am Check-in — 11:45 am Race
Bears: 11:45 am Check-in — 12:30 pm Race
Adult Race 1:30 pm Check-in — 2:00 pm Race
Race ends 3:00 pm
More Fun!!!
Stepping Stones is offering Make a Car – all day; Mega Making. Race a Car – 11:15 am and 2:15 pm.
Bring a Buddy! Bring lots buddies so they can learn about the fun and adventure Cub Scouts offers.
NEW — Special Race for adults. Join us for a good old-fashioned derby race where adults compete for trophies, prizes, and the greatest prize of all…bragging rights! Each Pack should have an Adult Entry.
Registration Deadline is Monday, March 25, 2019
CLICK HERE FOR LEADERS/PARENTS GUIDE
Questions: Steve Prostor, District Cub Scout Activity Chairman, sprostor.powahay@gmail.com