February will always be a very special month for Meghan DeGray of Norwalk. In 2019, the Boy Scouts of America began welcoming young women into their flagship program, creating opportunities for them to go on adventures like millions of young men before them. Fast forward to February 2021 and Meghan is one of the first young women in the country to earn the iconic Eagle Scout rank.
Meghan instantly knew she wanted to join Scouts BSA as soon as she could and on February 1st she is a founding member of Troop 190. No stranger to Scouting, Meghan knew exactly why she was joining. She loved the outdoors, camping and going on adventures with her friends. She's also not the first Eagle Scout in her family – her brother Joel is an Eagle Scout and her father is an active Scout Master. Her love for STEM flourished in Venturing, a Scouting program focused on teamwork and adventure. Meghan is a member of the Powahay Chapter of the Order of the Arrow, where she is committee Vice Chief of Program.
The Journey to Eagle Scout
In celebration of International Women's Day and Women's History Month and on becoming one of the first female Eagle Scouts, Meghan reflected on her journey to the Eagle Scout rank.
"My mom reminded me that when my brother joined Cub Scouts I said that I wanted to do that too, but couldn't because I was too young and girls weren't allowed in. It's awesome to get to finally be part of this," said Meghan.
Struck by the history of southwestern Connecticut, and the impact the Revolutionary War had on Norwalk, Meghan chose to partner with her local historical society to clean and preserve more than 2,000 headstones. Working between six historical cemeteries in town, she recruited nearly 30 Scouts to work on her project with her. Being environmentally conscious, they even used an ecofriendly, professional cleaning solution to care for these gravestones.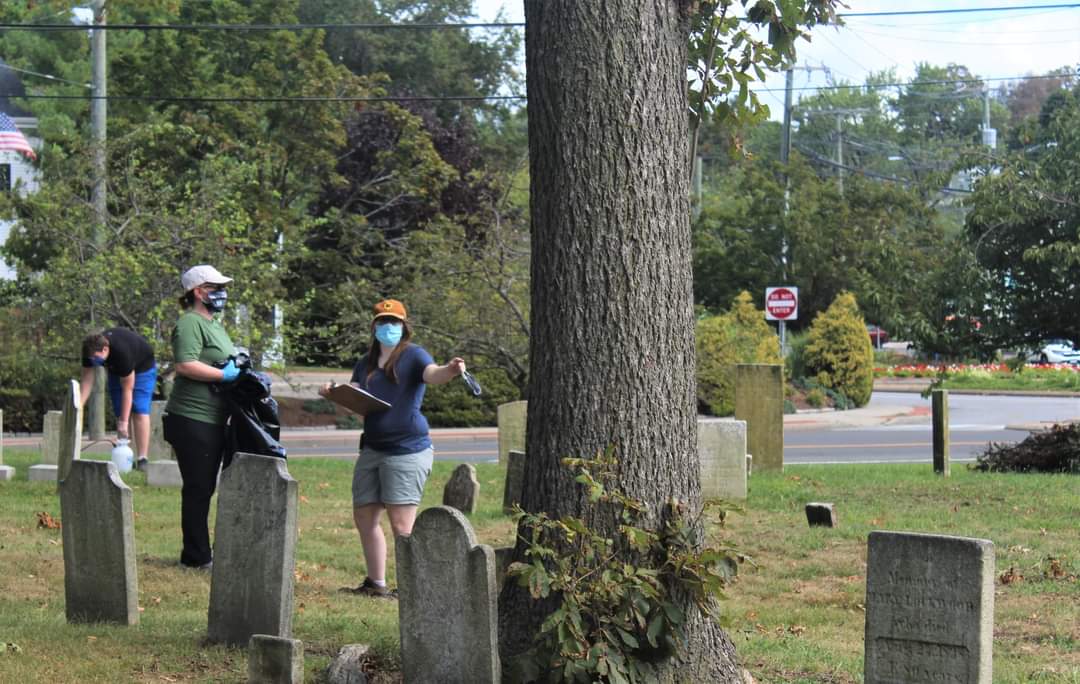 Adventures as Great as the Outdoors
Camping has also been a big part of her journey, from the challenges of camping in cold weather with Type 1 Diabetes to the joy—and warmth—of Scouts BSA Resident Camp in the summer. "Camping is an essential part of the Scouting experience," Meghan commented.
"My favorite memories of camp are swimming or the several merit badges I earned while at camp. These are memories that will last a lifetime and I believe that every Scout should have the opportunity experience camping at least once. I'll cherish these memories for a lifetime."
Scouts camp in all kinds of locations, even on the grounds of a leading aircraft manufacturer. One of her favorite memories is Camp Sikorsky, an annual event held by Sikorsky Aircraft, in the fall. "One of my favorites is Camp Sikorsky. We were able to do merit badges there and meet other Scouts. My favorite merit badge I earned during the event was for Search and Rescue. It's also my favorite memory from there. Many Scouts enjoy this event for a variety of different reasons, from the merit badges to events held during the three-day camp. Some even go just to hang out with friends during the breaks and meet other Scouts."
Meghan is preparing for another major journey in life – her journey to college.  Heading to college is a big step into adulthood and Meghan remains hopeful and confident of her future thanks to Scouting. "Many colleges are aware of what an Eagle Scout is and the path that needs to be traveled to achieve it. They also know the traits that an Eagle Scout should have. They know how an Eagle should act; they know how a Scout should act. All of this helped when applying to colleges and I have included it in essays I've had to write to college about myself or challenges I've faced."
The future is certainly bright for Meghan and the entire Connecticut Yankee Council congratulates her and the young women of Troop 190 on their momentous achievement.