Come Sail with the Sea Scouts
Connecticut Yankee Council, BSA offers opportunities for girls and boys ages 10 to 20 to experience first-hand the beauty and adventure of the Long Island Sound, one of our nation's premier sailing venues.
Sea Scouts, BSA is a co-ed program for youth ages 14* to 20 who want to experience the adventure of sailing while learning and working together as a team.  Come explore the Long Island Sound with the Sea Scouts, it might even lead to a career in the maritime industries or sciences. All while making friends and having fun!
Sailaway Sailing School is our summer program for girls and boys ages 10 to 14 who want to learn or improve their sailing skills. Click here for more info: www.sailawaycamp.com
The Sea Explorers Club for girls and boys ages 10 to 14 helps expand your knowledge and skills while learning about a wide range of maritime opportunities.
No prior sailing experience is necessary for any these programs however participants must be able to pass a swimming test and must conduct themselves safely and responsibly at all times.
*or 13 years old and completed the 8th grade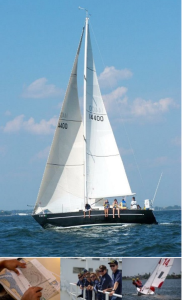 Ship # and boat
SHIP # 84
Sailing Vessel(s)
"Resolution" 40'
" Kolga" 30'
Where we meet:
Winter Season:
Pequot Yacht Club, Southport
Sundays 4:00pm
Summer Season:
Southport Harbor, Southport
Saturday or Sunday
Who to contact:
Skipper: Erol Eyikan
203-521-7750
facebook.com/Ship84
Mate: Paul Lukas
SHIP 110
Sailing Vessel(s)
"Not By Bread Alone" 35'
and several smaller sailing vessels 17' to 19'
Winter Season
Easton Country Day School, Easton. Sundays 5pm to 6:30pm
Summer Season
Captain's Cove, Bridgeport
Sundays 1pm to 5pm and
Wednesdays 6pm to 8:30pm
Skipper: Peter Neunteufel
203-551-9117
facebook.com/SeaScoutShip110
SHIP 6
Sailing Vessel
"Celebration" 37'
Norwalk Area
Ship 6 is very ambitious and active year-round. We are a unique team. Racing to win in our DNA! Our schedule and activities are driven by the efforts and interests of the youth lead crew.
SHIP 79
Sailing Vessel
"Whifler" 30'
Skipper: Matt Lalumandier
Email: mathew.lalumandier@hotmail.com