By Alyssa Naumann / July 13, 2021
The world's leading carbon negative materials company is now on the New York Stock Exchange! Beginning June 25, Origin Materials is traded as "ORGN" and "ORGNW". At the helm is Council Board Member and Origin's Co-CEO Rich Riley who has had major accomplishments in his career, leading up to this exciting moment when he was asked to ring the opening bell.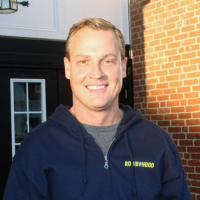 Active in his industry and community
Riley serves as a member of several boards. Most recently, he joined our Council's Executive Board after his sons became Scouts BSA members in New Canaan.  He serves as an Industry Advisor to KKR, Chairman of the Board of JourneyPure LLC, Co-Founder and Board Member of HomePoint, Board Member of the Entrepreneurship Department at the Wharton School and a Trustee of St. Luke's School. 
Riley is among an impressive list of successful business leaders involved in Scouting, many of whom credit their success to the lessons they learned from Scouting early on. According to Business Insider, Hank Paulson, former U.S. Treasury Secretary and Goldman Sachs CEO earned his Eagle rank in Boy Scouts.  Dreamworks founder, Steven Spielberg became a Distinguished Eagle Scout and credits the Boy Scouts with getting him started in film. Michael Bloomberg, former Mayor of New York City and founder of Bloomberg LP, credits the Boy Scouts for sparking his interest in public service. The lessons of the Scout Oath and Law among which are to be trustworthy, helpful, kind, and to help other people at all times, are ones that Riley's sons are learning in Scouts BSA.
Riley earned his Bachelors of Science in Economics with a concentration in Entrepreneurial Management and Finance from the Wharton School at the University of Pennsylvania. Riley spent 13 years of his career working for Yahoo!, having a variety of roles of increasing responsibility. After working for Yahoo!, Riley served as Chief Executive Officer of Shazam Entertainment for five years, helping develop the music recognition app which was acquired by Apple. Riley's leadership at Shazam helped the company double its user base and become one of the world's most popular apps. 
Some of Riley's accomplishments include being featured in Fortune Magazine's 40 Under 40, Ones to Watch list and being a finalist for the E&Y Entrepreneur of the Year award. He was also named 3 times to Billboard's list of the most powerful people in the music industry.
Most recently, Riley has been making strides with Origin Materials. Origin Materials has been developing over the past 10 years into a company that turns carbon found in non-food biomass into useful materials, eliminates the need for fossil resources and captures the carbon in the process.  According to the Origin Materials website, their mission is to "enable the world's transition to sustainable materials".
Origin Materials went public on the NY Stock Exchange just a few weeks ago. In honor of the occasion Riley and his Co-CEO John Bissel visited the Nasdaq MarketSite in Times Square where they got to ring the Nasdaq Stock Market Opening Bell. 
Riley lives in New Canaan with his wife and four kids. In addition to his board member position, his wife Colleen supports the Connecticut Yankee Council and recently sponsored and attended the Connecticut Yankee Council's Women In Leadership Lunch, honoring two highly respected women in the New Canaan Community.