Scouting at Home Recognition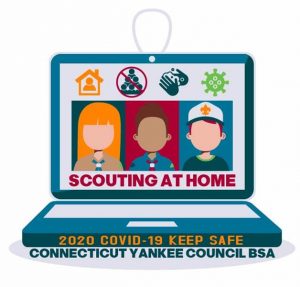 For Cub Scouts, Webelos, Scouts BSA, and Venturers
Connecticut Yankee Council would like to recognize Scouts and adults who are Scouting at Home with a patch that is sure to be a collector item. Requirements for Scouts to earn this recognition are simple:
Participate in Scouting at Home activities implemented by your unit.
Work at Home on advancement approved by your Unit Leader.
Be current with your age appropriate Cyberchip
Requirements for the 2020 COVID-19 Recognition for Adults:
Support or organize a Scouting at Home activity for your unit or district.
Guidelines:
Unit Leaders administer this recognition award. No forms to complete.
Units can add additional challenges. Here are some suggestions:

Turn in a name of a friend to your Unit Leader who may be interested in joining Scouting.
Complete a project to show appreciation to those providing medical and other services.
Complete Community Service Projects following COVID-19 guidelines and staying at home.
Patches are $1.00 each  (Order now, and pay when the patches are received)
Quantities limited to the number of Scouts and Leaders listed on a Unit's 2020 Charter
Deadline for meeting the requirements and ordering patches: April 30, 2020
EXTENDED to May 15, 2020
https://mycouncil.ctyankee.org/Event/633
Contact: John Hanks at johnwhanks@hotmail.com or Jay Lubin at jaylubin@gmail.com
Click here for more information about
.