Who Is General Carter?
The Training Cabin at Hoyt Scout Camp is dedicated to "General Carter – 1968" based on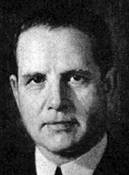 the plaque over the fireplace. So who was General Carter? Well, the mystery has been solved.
Arthur Hazelton Carter (January 6, 1884 – January 3, 1965) was a native of Hillsboro, Kansas, and a graduate of West Point, Arthur Carter earned distinction both as a soldier and as a civilian.
He entered the United States Military Academy at West Point in 1901. After graduating as a second lieutenant of field artillery, he served in various posts in the United States and the Philippines before returning to civilian life in 1915. Two years later, when the U.S. entered World War I, Carter returned to the Army as a major in the Bureau of Ordnance and then as commanding officer of the Field Artillery Central Officers' Training School in Kentucky. In 1919, he received an honorable discharge as a full colonel.
He married Marjorie Sells in 1910. After WW I, Carter joined his father-in-law's firm, Haskins and Sells, a predecessor firm of Deloitte & Touche. He qualified as a CPA and in 1922 was admitted to the firm. In 1930, he became Managing Partner, a position he held for over a decade. While serving as President of the New York State Society of Certified Public Accountants (NYSSCPA), he testified before the Senate and was instrumental in the passage of the Securities Act of 1933. The act awarded CPAs the exclusive right to audit public companies; thus, Carter helped to institute one of the accounting profession's largest legislative landmarks. When asked during the hearings who audits the accountant, Carter famously replied, "Our conscience." He was President of the NYSSCPA from 1930 to 1933, and was posthumously inducted into the Society's Hall of Fame in 2004.
From 1941 to the end of World War II, he served in Washington, D.C on President Roosevelt's staff as executive accountant (1941–1946), reviewing and recommending improvements in the War Department's auditing organization and procedures. He served as Fiscal Director of the Army Service Forces from May 1943 through December 1945 (link – page 350). He was promoted to major general in 1943. During WW I, he was awarded the Distinguished Service Medal;  an Oak Leaf Cluster was added in WW II. General Carter returned to Haskins & Sells in 1945, and retired in from the accounting firm in 1947.
General Carter apparently was a member of the Stamford Rotary Club. Marjorie Sells Carter was involved with the Alfred W. Dater Council (Stamford), and was a significant benefactor of Scouting. She donated the funds for the Cabin after her husband's death. Ground was broken on the Training Cabin in October 1968, construction was completed in the late spring or early summer of the following year, and the Cabin was officially dedicated at 4:00 PM on October 4, 1969, during a Council Camporee. The dedication referred to LTGEN Carter, so he may have been promoted in rank upon his retirement.
Note. Many thanks to many Scouters who helped research General Carter. Special thanks to Chester Wickett and Rich Barton for staying the course and keeping up the research. Eric Goldstein also put a lot of time into the search and research.
Also thanks to John P. Hammond of Wilton, for his remembrances of the Carters. Mr. Hammond's father (Carleton E. Hammond, Silver Beaver & Silver Antelope) was very active in Scouting at the local (Stamford & Darien), regional, and national level, and was a long-time advisor to Mrs. Carter; he peaked her interest in Scouting. Mrs. Carter's generosity extended to an extensive scholarship fund for Scouts throughout New England, as well as a similar fund for CPA students.