From Powahay District Newsletter – February 2010
John Sherman Hoyt of Darien, was a wealthy industrialist and dedicated Scouter. Hoyt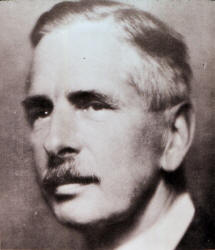 was involved with the scouting movement since 1910 as one of its founders and later served as National Council Vice President for Finance, a member of the National Council Executive Board and Advisory Board.Hoyt had a large estate on Continent Island in the Tokeneke section of Darien. During the 1920's and 1930's Mr. Hoyt would allow Darien Scouts to camp on an island off of his estate. The Camp became know as Treasure Island and served as a Summer Camp. John Sherman Hoyt helped to finance the building of the original Darien Scout Cabin in 1926 . In 1947 he donated 18 acres of land to the Alfred W. Dater Council, which became the Five Mile River Camp. The camp was later sold. In 1966 the current John Sherman Hoyt Reservation, 174 acres was donated and named in his honor. The reservation has been operated by three different councils. Alfred W. Dater Council merged to form Fairfield County Council in 1972 and merged again in 1998 to form the present Connecticut Yankee Council.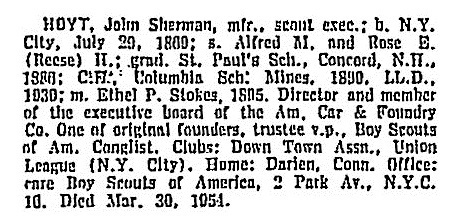 From Who's Who in America, Volume III 1951-1960
Marquis, Chicago, 1960
Manufacturer, scout executive; born New York City, July 29, 1869; son of Alfred M. and Rose E. (Reese) Hoyt; graduated St. Paul's School, Concord, NH, 1888; graduated Columbia School of Mines, 1890; LLD, 1930; married Ethel Phelps Stokes, 1905; Director and member of the executive board of the American Car and Foundry Company; one of the original founders, trustee, vice president of the Boy Scouts of America; Conglist; clubs: Down Town Association, Union League (NYC); home: Darien, CT; office: rare, Boy Scouts of America. 2 Park Avenue, NYC; died March 30, 1954.
The BSA National Charter [US Code, Title 36, Chapter 2]
June 15, 1916
§ 21. Corporation created.
Colin H. Livingstone and Ernest P. Bicknell, of Washington, District of Columbia; Benjamin L. Dulaney, of Bristol, Tennessee; Milton A. McRae, of Detroit, Michigan; David Starr Jordan, of Berkeley, California; F. L. Seely, of Asheville, North Carolina; A. Stamford White, of Chicago, Illinois; Daniel Carter Beard, of Flushing, New York; George D. Pratt, of Brooklyn, New York; Franklin C. Hoyt, Jeremiah W. Jenks, Charles P. Neill, Frank Presbrey, Edgar M. Robinson, Mortimer L. Schiff, and James E. West, of New York, New York; G. Barrett Rich, junior, of Buffalo, New York; Robert Garrett, of Baltimore, Maryland; John Serman Hoyt of Norwalk, Connecticut; Charles C. Jackson, of Boston, Massachusetts; John H. Nicholson, of Pittsburgh, Pennsylvania; William D. Murray, of Plainfield, New Jersey; and George D. Porter, of Philadelphia, Pennsylvania, their associates and successors, are created a body corporate and politic of the District of Columbia, where its domicile shall be.
The Silver Buffalo Award
Since 1926, the Boy Scouts of America has awarded the Silver Buffalo Award for distinguished service to youth. Each year, this award for noteworthy service of a national or worldwide character is made to men and women associated with Scouting and to others not directly associated with Scouting. Awards in 1926:
Sir Robert S.S. Baden-Powell – Gilwell Park, England – Chief Scout of the World Obit
Daniel Carter Beard – Suffern, NY – National Scout Commissioner Obit
William D. Boyce  – Chicago, Illinois – Publisher; Incorporator of Boy Scouts of America Obit
Howard S. Braucher – New York, NY – Chairman, Committee on Organization, BSA
George J. Fisher – New York, NY – Physician; Deputy Chief Scout Executive
John Sherman Hoyt – Darien, CT – Manufacturer; Chairman, Finance Committee, BSA
Jeremiah W. Jenks – New York, NY – Educator; Formulator of Scout Oath and Law
Joseph Lee – Boston, MA – Advocate of Playground and Outdoor Recreation
Colin H. Livingstone –  Washington, DC – Financier
Milton A. McRae – Detroit, MI – Publisher; President, Boy Scouts of America
William D. Murray – Plainfield, NJ – Lawyer; Chairman, Editorial Board, BSA
George D. Pratt – New York, NY – Treasurer, Boy Scouts of America
Frank Presbrey – New York, NY – Advertising Man; Developer of Boys' Life
Barrett Rich – New York, NY – Chairman, BSA Committee of Badges, Awards, and Scout Rqmts
Edgar M. Robinson – Washington, D.C. – Co-organizer, Boy Scouts of America
Mortimer L. Schiff – New York, NY – Philanthropist; President, BSA
The Unknown Scout – Boy Scout
Ernest Thompson Seton – New York, NY – Chief Scout Obit and Obit
James J. Storrow (Posthumous Award) – Boston, MA – Banker; President, BSA
James E. West – New York, NY – Lawyer; Chief Scout Executive Obit
George W. Wingate – New York, NY – Advocate of Organized Outdoor Recreation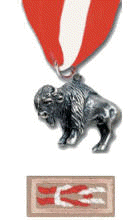 Historical Records from the National Office, Boy Scouts of America