By Alyssa Naumann/ June 16, 2021
As we approach Father's Day, now is the time to highlight a few of the many fathers involved in their child's Scouting experience. These families have found that Scouting has made their children more independent and at the same time has brought the family together around a common interest.
Scouting has Benefited the Entire Flaherty family
"It gives you a chance to do something alongside your child, you end up getting to know a lot of other great kids and you get to help influence those kids and help them along their path. So, I mean, it's kind of like this built-in way to stay connected with your child," said Susie Flaherty, Scout mom from Troop 219 in Darien. 
Flaherty has two son's that have been scouts since they were 6. While she serves as the Scoutmaster for girls Troop 219, her husband Craig is Camping Coordinator and Assistant Scout Master for Troop 53. Craig and their oldest son are now training for a two-and-a-half-week Backcountry hike at the Philmont Scout Ranch, the Boy Scouts of America's High Adventure Base in New Mexico. The training consists of "shakedowns" which prepare the scouts for the longer hike. For Father's Day this year, Craig and his son will be somewhere on the Appalachian Trail completing another shakedown for the big trip in July. Susie said that Craig always just wants to be outside doing something with his kids on Father's Day, so this shakedown comes at the perfect time.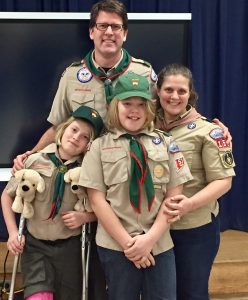 Scouting is a Family Tradition for the Livesays
For the Livesay family, Scouting is multi-generational, and Mark has taken pride watching his sons accomplish the same things that he did as a scout when his father watched him. Mark's father was a first-class scout while Mark and his two sons are Eagle Scouts. 
Scouting has instilled traditions in the Livesay family, which Mark hopes will pass down to Livesay's for generations. Mark hiked Mount Washington with his father when he was a scout, and his father watched him become an Eagle Scout. He repeated the Mount Washington hike, this time with his own sons, and watched as they earned their Eagle Scout rank.
"Looking back all these years later I remember obviously feeling that same sense of pride for my boys when they became Eagle Scouts and again watching them grow into the young men they are today, so it's kind of cool to experience and hear that from my dad too," Livesay said. 
Mark said that without Scouting, his family would not be as adventurous as they are. Scouting had a big influence on the Livesay's wanting to stay fit and healthy, so they enjoy outdoor activities like hiking, canoeing, bike riding and camping. Father's Day plans are going to be a surprise for Mark, but in the past they have spent the day camping, going to Yankee's games or other outdoor activities.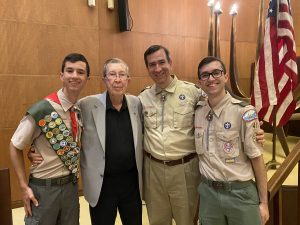 Scouting Creates Bonds in the Muthusamy Family
Some sons like to surprise their dads for Father's Day, as is the case for Vishwanathan Muthusamy, a father from Troop 41 in Woodbridge, who has a son and daughter in Scouting. Similar to Livesay, Muthusamy said he usually spends the day doing some sort of activity that gets sprung upon him the day of. 
Muthusamy and his wife are both involved in the BSA, with Muthusamy serving as a committee member in the local troop. He has a son and daughter who are both scouts, and says that full-family participation in scouting lets their family bond over a common interest. While his son became an Eagle this fall, Muthusamy took it upon himself to get the ball rolling establishing a girls troop for his daughter. 
"One of the reasons the troop was even started here was primarily because of her interest and my approaching Jonathan (District Director of the Connecticut Yankee Council) and asking if a girls troop could be started. We went about asking people who may have a similar interest in having their girls sign up and identified the scoutmasters. We now have about 8 girls in the troop," Muthusamy said.
These are only a few of the families that are fully involved with and committed to the BSA. Scouting has given these families different opportunities for adventures, challenges, following traditions, and creating bonds. This Father's Day is a time to reflect on and appreciate the leadership, dedication and traditions that Scouting Dads bring to the Connecticut Yankee Council. 
Do you have an interesting Scouting story with your dad? Share it with us on Facebook!