Read all about it!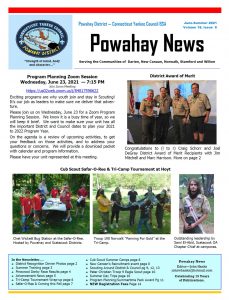 Click on the image to download.  In this edition:
District Recognition Dinner Photos page 2
Summer Training page 3
Pinewood Derby Race Results page 4
Advancement News page 5
Tri-Camp Tournament Wrap-up page 6
Safar-O-Ree Wrap-up page 7
Coming this Fall page 7
Cub Scout Summer Camps page 8
New Canaan's Recruitment event page 8
Scouting Around District & Council pages 9, 12, 13
Peter Christian Troop 9 Eagle Scout page 10
Summer Day Trips page 10
Program Planning page 11
Summertime Pack Award Page 11
NEW Registration Fees Page 14
Powahay News will take a break for the summer.  Our next publication is planned for the end of August.