Some of Powahay's best volunteers never get recognized for their service to Scouting, because no one took the time to nominate them. This post includes the various awards presented to recognize our volunteers at the District Dinner.
Some recognitions require processing through National and we have set a nomination date deadline for all awards by May 18, 2022.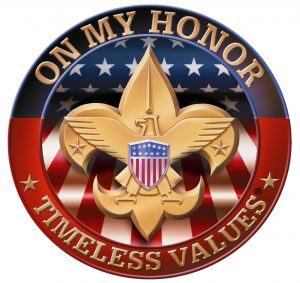 Dinner Awards:
The On My Honor Award is a Powahay District recognition presented to volunteers at a Pack, Troop or Crew level. Individuals are nominated by their commissioner or their peers. Nominations do not have to be registered with your unit but must demonstrate Scouting service to your unit. A person can be nominated for consecutive years. No more than 4 nominations per unit and those nominated should attend the dinner to be recognized.
District Award of Merit (2 or 3 Awarded) is the highest award a district can present to a volunteer. It is available to Scouters who render service of an outstanding nature at the district level.
Powahay Key 3 Award is presented to volunteers who go above and beyond the call of service for the youth of the Powahay District. It is presented by the District Key Three (District Chairman, District Commissioner, and District Executive). Recommendations can be submitted by email to karen.caiati@scouting.org.
Veteran's Award: The Veteran's Award is an adult recognition of the number of years registered in Scouting.
Tenure earned as a youth may be included in the total number of years registered.
Unit Leader Award of Merit: Quality unit leadership is the key to a quality unit program and leaders to better Scout retention. The Boy Scouts of created the Unit Leader Award of Merit to recognize the quality unit leaders — Cubmasters, Scoutmasters or Crew Advisor — who make that happen. This award is approved by National. Form
The William D. Boyce New- Unit Organizer Award is presented to recognize volunteers who organize one or
more traditional Scouting units. The Award has been updated allowing for several volunteers to be recognized.
Powahay Pioneer Award is presented annually by the Powahay District to long-time Scouters who continue to provide exceptional service to Scouting at a point in their life when they could easily "retire" from Scouting. Recipients are selected by a special committee.
During our Scouting year, many situations arise when you say "thank you" to a volunteer. However, sometimes a more than just a thank you is needed to match the impact of the person's efforts. Powahay's Annual Recognition Dinner allows your unit to thank a volunteer with a recognition award and to be honored at a ceremony of their peers. We ask that please you make every effort for those nominated to attend the District Dinner.
Email forms to: karen.caiati@scouting.org
Questions: cwickett@optonline.net