Download the current edition of Powahay News! A must for your annual planning.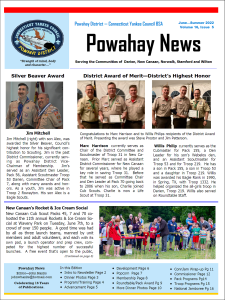 CLICK HERE — To download Powahay News
Welcome to the June/Summer Edition of Powahay News!
In this Edition
Intro to Newsletter Page 2
Dinner Photos Page 3
Program/Training Page 4
Advancement Page 5
Development Page 6
Popcorn Page 7
Membership Page 8
Roundtable/Pack Award Pg 9
More Dinner Photos Page 10
ConnJam Wrap-up Pg 11
Commissioner Page 12
Pack Programs Pg14
Troop Programs Pg 15
National Jamboree Pg 16
We're taking a break for the Newsletter until the end of August.