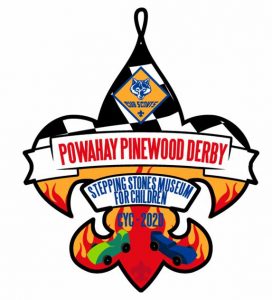 Saturday, March 28, 2020 
The Pinewood Derby has been canceled.  We hope to reschedule later on in the spring.
This is an earlier date to avoid conflicts with spring sports. Cub Packs are asked to hold their Pinewood Derby prior to this date.
We are asking all Packs to adopt the District Pinewood Derby Guidelines in running your Pack Race. This will standardize all packs on the same guidelines and allow for easy entry in the District Championship.
Each Pack can send the following winners to the District Championship:
Lions 3 Racers
Tigers 3 Racers
Wolf 3 Racers
Bear 3 Racers
Webelos 3 Racers
AOL Webelos 3 Racers
Each pack can enter up to 18 entries.
The District Pinewood Derby Championship will take place at Stepping Stones Museum for Children, Matthew Park, 303 West Ave., Norwalk with family fun programs and discounted prices.
Fees:
$15/Pinewood Derby Racer
Free parent (one per race child)
$10 for any extra adult or siblings
Fees include Pinewood Derby Race, patch, various awards, and entrance fees to Stepping Stones.
Pinewood Derby Schedule 2020
10:00 am Museum Opens
Lions/Tigers: 10:15 am Check-in — 11:00 am Race
Wolves: 11:00 am Check-in — 11:45 am Race
Bears: 11:45 am Check-in — 12:30 pm Race
Webelos: 12:30 pm Check-in — 1:15 pm Race
The race ends 3:00 pm
Packs should be registering as a unit.  We will need Scout names and rank.  The free parent is registered through the Scout Racer fee.  We need names for all Adults with online registration.  Thank you.
FOR MORE INFORMATION