Celebrate the 40th Anniversary of  Powahay District with a limited run Special Collector Patch…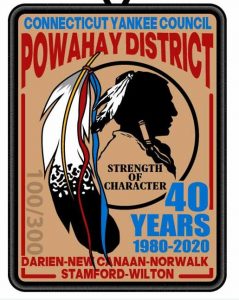 A must add to your Patch Collection.
Makes a great gift.
Honor youth or adults in your unit with a patch.
$8.00/Patch
Sold at monthly Roundtables
and District Activities
Proceeds benefit Friends of Scouting
Limited run. Once we sell out they won't be reordered.
Each patch individually numbered.
Each patch includes a certificate of authentication and a narrative of Powahay and the naming of our District.
Comes in a protective cover.
Patches #1 to #3  — the first run patch being sold by silent auction.  Bidding starts at $40.00 at the Sept. 4 Roundtable.  Again, proceeds benefits Friends of Scouting.