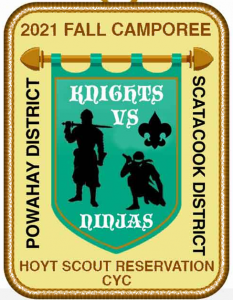 Registration is now Open!
Powahay and Scatacook Districts Presents
Knights Vs Ninjas Fall Camporee
October 22-24, 2021
Hoyt Scout Reservation, Redding CT
!
Join us for an action-packed camporee weekend. A battle between two favorites, a knight and a ninja, to determine who is the best. Defeat your opponent in melee combat in a series of patrol competitions. Troops will be organized into Knights or Ninjas. All their participating patrols will be the same.
SPL's will form the Greenbar for the weekend coordinating their Troop's participation and planning the program. We welcome more than one youth representative from each troop to our planning Greenbar.
Featuring the Knights of Gore — A medieval fighting troop specializing in scripted fighting demonstrations. Experience an opening ceremony and show like no other! Watch as the Knights of Gore don full plate armor in an unrehearsed, no-holds-barred, medieval battle!
ALERT— Registration deadline is Oct. 15 or 28 Troops registered (whichever comes first).
CLICK HERE TO DOWNLOAD THE LEADERS GUIDE
SPL & Youth Leaders & Adult Leaders
Zoom Camporee Planning Meeting
Wednesday, August 18, 7:15
Agenda – Review the program and set up the Greenbar
Email John Hanks at jhanks@powahay.com for an invite
Scatacook Shooting Sports Committee is planning a Scouts BSA Merit Badge Day for Rifle Shooting, Sunday, October 24, 2021 — 8:00 AM to 5:00 PM (after the camporee). More information can be found in the attached Leaders Guide and Scouts can be signed up through the above registration link.