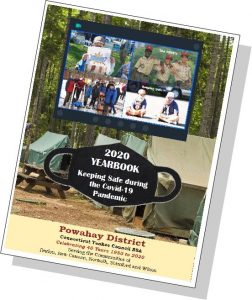 Powahay 2020 Yearbook
2020 was the year that Scouting came together to meet the challenges of the worldwide Covid-19 pandemic. With a statewide shutdown, and stay-at-home orders for Packs, Troops and Crews continued with creative and innovative programs and our Scouts continued to support their communities with service projects… It was a complicated year for America, and for Scouting.
Powahay Yearbook is a reflection of this historical year with unit pages, stories, tributes, Eagle Scouts and more… a keepsake to share with future generations.
The Yearbook is a FREE download dedicated to the Scouts and Scouters of Powahay District.
The print copy makes a great gift for a son or daughter, or for a Scouter.
Proceeds benefit Friends of Scouting.
Questions: info@powahay.com