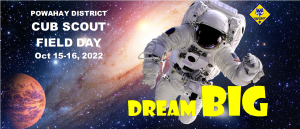 DREAM BIG! Your dreams and aspirations can change the World! Join us for Cub Scout Field Day encouraging Scouts to DREAM BIG to explore their interests and passions at Hoyt Scout Reservation. And, we are adding a spooky, just for FUN, giant Haunted House inflatable!
There are two ways to participate — A full program with Saturday day events and optional overnight camping. Or just come in Saturday afternoon at 3:30 for special programs and overnight camping.
Online registration: Your families can register individually or Packs can register as a group. It is family fun! Siblings are welcome to attend.
FEES ALL PROGRAMS: $20 Youth/$20 Adult: Includes both day and overnight fees, patch, lunch, programs, and camp fees.
Here's what we are working on:
When I Grow Up:  It's not a career day but a fun look at what Scouts can do when they grow up. Stations/activities around: Tradesman, First Responder, Scientist/Engineer. Pro-Sportsman. Businessperson.
Cub Scout STEM Awards:  STEM—Science, Technology, Engineering, and Mathematics. Fostering a strong STEM education is to boost the spirit of innovation and to DREAM BIG. We will offer workshops for a Cub Scout STEM Award.
Plus… Giant Haunted House, BB Shoot, games, and more.
ARROW OF LIGHT WEBELOS can participate in the Scouts BSA Camporee hosted by a Troop including camping overnight being held that same weekend at Hoyt.
DREAM BIG – Powahay Cub Scout Field Day – October 15-16, 2022 – Hoyt Scout Reservation
CLICK HERE TO JOIN OUR EMAIL LIST AND BE NOTIFIED WHEN REGISTRATION IS OPEN.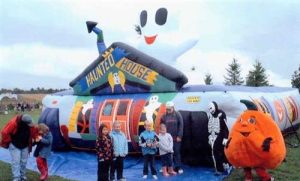 This unique Halloween giant inflatable maze will attract kids and adults with all the excitement of a haunted house but is very child friendly. Children will love the 7 "Haunted Hallways" with all the twists and turns, pop-up characters, and Halloween decor