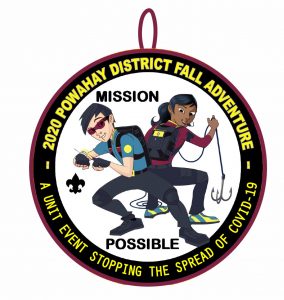 POWAHAY DISTRICT
CUB SCOUT FALL ADVENTURE
Your Mission . . . Should You Choose to Accept it . . .
. . . Is to bring your Pack families together for an outdoor fun event with a "Spy Kid" Adventure. A spy is a person whose job is to get secret information. Spies try to keep others from discovering who they are and what they do. The work of spying is also called espionage. Spying often takes place during wartime. Spies for one side try to find out what the enemy is planning. Government spies may also gather information about other countries during peacetime. This is a Pack led event.
MISSION POSSIBLE
Powahay Cub Scout Packs are invited to join in a Fall Spy Theme Adventure with activities geared for Cub Scout-age youth to earn the above patch.  The patch is sure to be a collector item. Enjoy a pack run event that includes…
Action Spy Kid Stations with instructions on how to set up and run.
Security Checkpoint to obtain their Spy Identification Card and secret codename.
Code Cracking — Learn about cryptology.
Espionage Adventure — The evil agent known as the Jackal, has stolen the royal emeralds. Follow instructions to find them.
Master of Disguise — Scouts attend in a master of disguise costume (or their Halloween costume.)
Spy Training Games — Over 12 Social Distancing Games and Safe Activities for kids from Parent magazine. Easy games to play. Choose at least 3 to play or as many as you want.
Location:  This event can be run at a home, at your charter organization location, town park, or one of the council camps.
Town parks may require permission. Check with your local government.
Council camp reservation at www.ctyankee.org/camping/reserve-a-campsite-or-facility/ or by calling Carolyn Cruson at 203-951-0237.
Indoors — This event can be modified to meet indoors if permitted and you have a large assembly room or gym as per Covid-19 Guidelines.
Timing:  Pack set their own timing for this event.  We recommend a 2-hour event but Packs can make as short or as long as they want.
Mission Possible — Make it Happen!  We have a packet full of fun activities for easy planning.  Let's get our Scout families together for an exciting day of Spy Adventures. Earn the patch!
$10.00/Unit Fee & $3.00/Patch
Packs hold the event by November 14
Questions John Hanks info@powahay.com
Make this a "Bring A Buddy" recruitment event.  Have your Scouts and parents invite youth to the event to learn about the fun of being a Cub Scout.