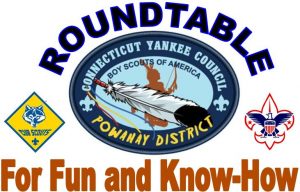 BSA Roundtables are a monthly gathering of Pack, Troop, Team, Crew, and District leaders. Roundtables are put on by your District Commissioner staff to give leaders hands-on experience and provide a forum for leaders to offer and receive help from their fellow Scouters. There are separate sessions for Cub Scouts leaders and Scouts BSA/Venture Crews.
Special Roundtable
May 1, 2019
LDS Church, 682 South Ave., New Canaan
2019 to 2020 Program Planning Roundtable 
Come out for information, resources, and networking opportunities that can help you offer the BEST QUALITY SCOUTING PROGRAM for your youth, and get everything you need to plan for the 2018-2019 Scouting Year!
Who should attend? All LEADERS! Den Leaders, Cubmasters, Scoutmasters. Crew and Post Advisers and Skippers, Unit Popcorn Kernels, Committee Chairs, Committee Members and Membership Chairs. Each unit should be represented.
Town Meetings
Our February Town Meeting Roundtable format was a big success that we are bringing it back for this Roundtable.  We'll have a breakout session by towns.
Darien
New Canaan
Norwalk
Stamford
Wilton
Questions: info@powahay.com