Join us November 16 for Powahay's 9th Annual Webelos College.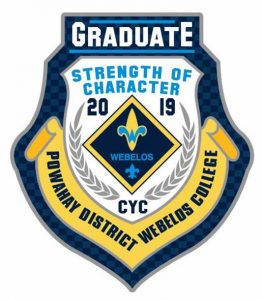 Webelos Adventure College
Saturday, November 16, 2019
Registration is now OPEN!  See Below
8:15 AM to 12:30 PM
Scofield Magnet Middle School, 641 Scofieldtown Rd., Stamford, CT 06903
$20.00 includes patch, supplies, facility use, and lunch.
$15.00 Early Bird if paid by Nov. 1, 2019.
Webelos Pins (contingent on our ability to recruit instructors):
Art Explosion
Adventure in Science
Aware & Care
First Responder
Build A Better World
Earth Rocks
Engineer
Game Design
Maestro
Moviemaking
Build A Hero
Sportsmanship.
Webelos can sign up for two pins.
REGISTRATION ALERT
To avoid registration duplications and/or signing up for Adventure Loop already earned, we are asking that each pack designate a Webelos College Coordinator and that each pack makes a group reservation to qualify for the Early Bird Fee. Parents, please make your reservations through your Pack/Webelos Leaders.
Notes:
Instructors Wanted: We are asking Packs sending Webelos to consider providing a team to teach one of the awards.  An instructor package with the requirements and guidelines will be provided.
Webelos Adventures selections based on a "first-paid-first-served" basis. We are limiting class sizes to 20 Webelos.  Sign up early!
Registration starts in September and due by November 1. After November 1, registrations will only be accepted to fill out classes and at the $20 regular fee.
Select Adventures carefully. Webelos may not switch classes.
This is a Webelos event only. Due to classroom size and distractions to teaching the class, parents will be discouraged to accompany their son/daughter to the selected class unless there is a special need. Other Cub Scouts and siblings should not attend.
We need instructors! Webelos Pins based on our ability to recruit instructors.
CLICK HERE to sign up for our emails to be notified when the registration is active.
CLICK HERE For Leader/Parent Guide Book
CLICK HERE for Webelos Adventure Pins Requirements
Questions and/or to volunteer to teach:  info@powahay.com