REGISTRATION IS CLOSED
Troops and Crews… Join us on October 18-20, 2019 CSI: HOYT! Fall Camporee Hoyt Scout Reservation, Redding CT.  Hosted by Troop 19 and Troop 190 Norwalk. A look into Forensic Science and Law Enforcement.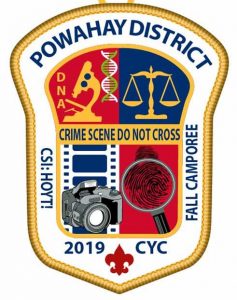 October 18-20, 2019
Hoyt Scout Reservation, Redding CT
Hosted by Troop 19 and Troop 190 Norwalk
Questions: info@powahay.com
See how your patrol stacks up against the other patrols in the District in solving the mystery. The opening ceremony will begin with a crime scene skit which will set the stage for solving a crime scene mystery. The CSI Camporee will be organized into a number of activities where Scouts will learn how to gather and analyze evidence which they then can use to solve the mystery.
We are looking to bring in local Police, an actual mobile crime lab, Police dogs, and more for demonstrations and to assist Scouts in solving the crime.
REGISTRATION IS CLOSED
Regular Fee — $20.00 Youth & $20.00 Adult
Early Bird Fee — $15.00 Youth & $10.00 Adult Fee with a deadline of paid in full by October 4, 2019
Highlights:
Update — The CSI narrative is being rewritten. Troop 19 and Troop 190 is finalizing a teen-rated Kidnapping for the crime mystery. This will have a double twist! Patrols will need to identify the kidnapper or kidnappers and rescue the victim. Stations will be tweaked a little, and we will have updates at the Oct. 2 Roundtable.
Station 1—Searching the Crime Scene and Evidence Collection: Learn how to gather and preserve evidence from a crime scene. How would you locate, and catalog evidence found over a wide area? Each patrol will need a digital camera to take photos.
Station 2—Detective Work: Learn some of the tools of a detective including timelines, reconstruction, organizing evidence, and chain of custody.
Station 3 — Eyewitness Evidence: Try your hand at interviewing witnesses and suspects. How good are eyewitness observations? Do eyewitnesses make many mistakes?
Station 4 — Fingerprints: Learn how to find and preserve fingerprints from a crime scene.
Station 5 — DNA Lab: This lab helps them determine whose blood was left at the crime scene.
Station 6 — Trace Evidence Lab: This lab will be used to identify evidence found on the victim.
Station 7 — Impressions Lab: This lab will help to identify the footprints left behind at the crime scene.
Station 8 — Ballistics: Learn to identify cartridge casings and bullets from their markings and determine from which vantage point and direction did a series of shots come from.
Station 9 — Photography: Learn to take crime scene photographs. Each patrol will need a digital camera.
Station 10 — Forensic Science Lab: Use of high-powered microscopes Scouts will exam slides to learn and study evidence just like professionals do.
Station 11 — Meet the Judge: Scouts will learn about the judicial procedures in CSI with obtaining search warrants, subpoenas, and preparing evidence for a prosecutor to take to court.
Station 12 — The Wrecking Ball Inflatable: Designed for teens and just for fun! Four players climb atop their inflated pads. One of the players grabs the "Wrecking Ball" and hurls it at their opponent in an attempt to knock the player off of their inflated pad.
Closing Station — Making the Arrest! Patrols will have 10 minutes to gather all of the forms they have completed from the stations to turn in and to complete the "Solving the Crime" sheet. The Suspect will be revealed and arrested!
Other Highlights:
A salute to Police and Law Enforcement Agencies with Police Units for demonstrations.
Ultimate Frisbee Tournament — Trophies and Disc give-a-ways. Eight Teams limit.
Scoutmasters (Adults) Vs Youth fun activities after the stations close.
Earn Fingerprinting Merit Badge and spark interest sessions with Crime Prevention and Photography Merit Badge.