Join us for a weekend of Cub Scout family fun October 19-20, 2019 with an "A Return to Basic" Scouting Skills theme. All of the activities, knot tying, use of compass, hikes, fire safety, leave no trace and more to be mapped to Required Cub Scout Adventures.  Come for the day or enjoy one-night family camping.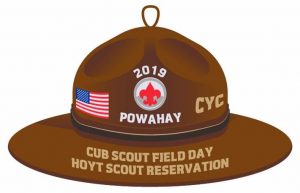 Scouting in the 21st Century
A Return to Basic
October 19-20, 2019 Hoyt Scout Reservation
Highlights: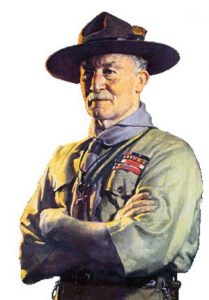 Eight Action Stations:
Vertical Run Inflatable Obstacle Course: Squeeze through tunnels, jump over barriers, slip underneath bars, and push your way past any obstacle that comes your way while trying to move as fast as possible with this new course!
BB Shoot: Cub Scouts will learn the safe and responsible use of BB guns, and to have fun in a safe range conducted by qualified adults.
Compass/How to Use a Compass: Explain the parts of the Compass. How to find North. What that means, and how to navigate with one around a simple course.
Knots/Knot Tying/The Six Scout Knots: Have fun learning the basic Scout Knots.
Leave No Trace for Every Kid/Leaf What You Find (Leaf Tracing): Discovering the fun of spending time outdoors and learning about responsibility for the environment.
Campfire How To & Safety/Smokey the Bear for Kids: Having a campfire fire is a big responsibility. Scouts will learn the fire-making process and about campfire safety. We are working on a special appearance by Smokey the Bear.
Flag Folding/Flag Ceremony: Scouts will learn Flag etiquette and ceremonies.
Cub Scout Games: Special Guest will lead Cub Scouts through a series of repeat after me songs and fun Cub Scout games.
PLUS….
Campfire Program with a special appearance of Lord Baden Powell and Smokey the Bear.
Special AOL Webelos Program — AOL Webelos can camp with a host troop and participate in the Scouts BSA Fall Camporee.
Updates as of Sept. 1, 2019
Cub Camping will take place upper Hoyt—288 Simpaug Tpke, Redding 06896, entrance providing for earlier campsite set up and more relaxed camping area. Your Pack provides the leadership and cooking your meals or take-out meals with local vendors. **Lunch provided on Saturday.
UPDATE — Sorry, but due to staffing and other logistics we are unable to offer Friday Night Camping. Packs can come in Saturday morning at 9 AM for a more leisure campsite set-up.

Programs start Saturday morning with a 10:30 AM hike and Opening at 11:30 AM.
Field Day Fees—Online Registrations coming in August
Cub Scout Field Day Regular Fee — $20.00 Youth & $20.00 Adult.
Discounted Early Bird Fee — $15.00 Youth & $10.00 Adult Fee if paid in full by October 4, 2019. Note we discounted the adult early bird fee from $12 (last year) to $10.00 (new).
We are discouraging individual registrations. To qualify for the early bird fee, Packs are asked to complete registration as a Unit. Packs should appoint a coordinator for the event and that person collects the payments from your families (both youth and adults) and makes the online registration.
Fee includes Patch, program and camp fees.
Extra Lunch at the Canteen—$6/person. Hot dog, fries and drinks. Bring your own lunch or pay through registration for lunch at the canteen.
Questions:  Steve Prostor, Cub Scout Activity Chairman, sprostor.powahay@gmail.com