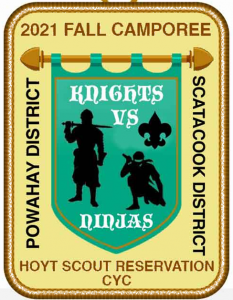 Arrow of Light (AOL) Webelos Participation at the Fall Camporee
October 23-24, 2021 — Hoyt Scout Reservation
We have been asked if Arrow of Light Webelos (AOL – 5th grade) can participate in the Fall Camporee.  Due to the large, expected registration of troops, we must limit participation.
Here are the Guidelines:
AOL Webelos must be hosted by a Troop.  Campsites are reserved for Troops only.
We are limiting to AOL Webelos and a parent(s). Younger siblings, 4th grade Webelos or Cub Scouts are not permitted to attend — they should be camping at the Oct. 16 Cub Scout Weekend at Hoyt.
District(s) DOES NOT coordinate camping between Host Troops and AOL Webelos Dens. Troops should reach out and invite AOL Webelos Dens to attend.
Registration:  AOL Webelos must register and pay through their Cub Pack, NOT the host Troop.
$10 Youth/Adult if they are just coming in late Saturday afternoon for the overnight.
$20 Youth/Adult if they want to come in by 9 AM Saturday and experience the opening ceremony with the "Knights of Gore" reenactment.
We are only accepting group reservations (Den or Pack Leaders make one registration). Individual registrations are not permitted.
AOL Webelos program:
We do not have AOL Webelos activities planned for this camporee. While it is a temptation to blend in Webelos with existing patrols and participate in the camporee patrol competitions it should be noted that some of these stations will be beyond their skill level.  It is not fun watching others participate while you sit on the sideline.
We do ENCOURAGE Troops hosting AOL Webelos to collaborate and offer alternative activities more suited for their skill levels.
Yours in Scouting,
John Hanks                                         John Queenan
Powahay District                                  Scatacook District
CLICK HERE FOR A PRINTOUT OF THIS POST