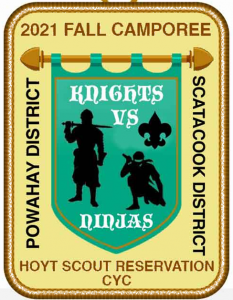 Powahay and Scatacook Districts Presents
Knights Vs Ninjas Fall Camporee
October 22-24, 2021
Hoyt Scout Reservation, Redding CT
Hosted by Troop 53 (BT) and Troop 219 (GT) of Darien
$20 Youth/Adult Fee — Register at
https://mycouncil.ctyankee.org/Event/786
We are happy to report that Troop 53 (boys) and Troop 219 (girls) of Darien will host the Fall Camporee.
Join us for an action-packed camporee weekend. A battle between two favorites, a knight and a ninja, to determine who is the best. Defeat your opponent in melee combat in a series of patrol competitions. Troops will be organized into Knights or Ninjas. All their participating patrols will be the same.
Featuring the Knights of Gore — A medieval fighting troop specializing in scripted fighting demonstrations. Experience an opening ceremony and show like no other! Watch as the Knights of Gore don full plate armor in an unrehearsed, no-holds-barred, medieval battle!
Updates:
Ultimate Games: Owaneco Lodge will be hosting the Fall Camporee Ultimate Disc Games. Troops can organize teams of 7 for the Fall Camporee Games. Prizes will be awarded for the top 3 teams. Owaneco Lodge will be organizing a spring ultimate playoff and Tournament for ConnJam 22.
Rifle Shooting Merit Badge: Scatacook Shooting Sports Committee is planning a Scouts BSA Merit Badge Day for Rifle Shooting, Sunday, October 24, 2021 — 8:00 AM to 5:00 PM (after the camporee). More information can be found in the attached Leaders Guide and Scouts can be signed up through the above registration link.
Arrow of Light Webelos: We have been asked if Arrow of Light Webelos (AOL – 5th grade) can participate in the Fall Camporee. Due to the large, expected registration of troops, we must limit participation. AOL Webelos must be hosted by a Troop.  Campsites are reserved for Troops only.  We are limiting to AOL Webelos and a parent(s). Younger siblings, 4th grade Webelos or Cub Scouts are NOT permitted to attend — they should be camping at the Oct. 16 Cub Scout Weekend at Hoyt. AOL Webelos must register and pay through their Cub Pack, NOT the host Troop.  MORE INFORMATION at https://www.ctyankee.org/district/powahay/arrow-of-light-webelos-fall-camporee/
Cooking Contest — We have a fun cooking contest challenge. Information is in the Leaders Guide and signup Teams through the online registration.
CLICK HERE to download the Leaders Guide
ALERT— Registration deadline is Oct. 15 or 28 Troops registered (whichever comes first).
Yours in Scouting
John Hanks                              John Queenan
Powahay District                     Scatacook District