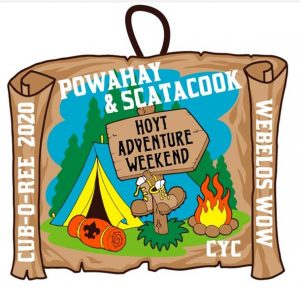 Plan a Hoyt Adventure Weekend* & Earn the Patch
Due to COVID-19 current guidelines, we are unable to reschedule the spring Cub-O-Ree and Webelos WOW. However, Hoyt is open for day adventures and overnight Cub Scout Family Camping. It is much safer and easier to manage COVID-19 Guidelines at the unit level than larger group District events. So, we are offering this as a unit event to earn the above patch.
Bring your Pack to enjoy Hoyt Scout Reservation* on 170 acres of pristine forest and fields in Redding, Connecticut. We have prepared a packet full of action fun for your pack:
Advancement Opportunities: Suggested outdoor Adventure Loops for Lions to Bears and Adventure Pins for Webelos.
Trail Map and Hiking Scavenger Hunt that ties in with Adventure Loops and Pins.
Nature items — Leaf Identification Chart, Common animals and birds at Hoyt, Cool Bugs to learn about, and Hoyt Weather Station — all tie in with the Adventure
Loops and Pins.
Games at Hoyt — Hoyt Disc Golf and Gaga ball. We have included the rules for these fun games.
Patches are $4 and we have a limited supply.
Sorry Rifle Range and Archery are not available.
*There may be limitations on the use of Hoyt, Packs are permitted to use this program for another camp or state or local park. This can be a day or weekend event.