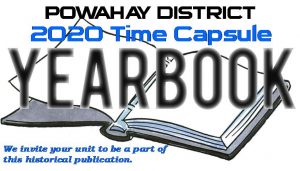 Let us record for future generations how Powahay's Scouts, Scouters, and their families braved this challenging year…
The Year 2020 will be a historical year with the Covid-19 Pandemic. Powahay District is presenting a 2020 Yearbook to be published by the end of the year. This was originally planned as part of Powahay's 40th Anniversary Celebration but now takes on a historical keepsake for our Scouting community.
The "Time Capsule" would be a printed and digital Yearbook. We invite your unit to be a part of this historical publication.
Yearbook Highlights
Unit Page — Each Pack, Troop, Crew, and Ship will be provided a unit page (2 pages for large units) to feature photos, names of their Scouts and some background information on their unit.
Content is written by a Youth Yearbook Staff featuring our year in review, Scouts in action, Powahay's 40th. Anniversary, and more!
Two Youth Contests:

Design the Cover Contest — Have your artwork displayed on the front cover of Powahay 2020 yearbook! Create an illustration that shows our theme of "2020 Time Capsule".
Essay Contest — Write a letter to a future Scout! Top entries to be published in the Yearbook.

Memorial and Tribute Ads — We're including reasonably priced page sponsorships to benefit the Connecticut Yankee Council Friends of Scouting. Honor an Eagle Scout, remember a loved one or Scouter, pay tribute to a unit leader or other adults in your unit, and for parents it's a great way to show your pride in your Scout son or daughter.  CLICK HERE to set up a support sponsorship.
YES — Our Unit will participate in the Yearbook Project!
We are looking for a commitment of at least 12 units (Pack, Troops, Crews and Ship) to make this feasible to develop. Please email us your commitment today!
We need your help. Join our committee both youth and adults:
Editorial Staff
Design, layout, and printing
Finance – budget and selling ads
Youth Staff — For High School age Scouts who are looking for a creative outlet, looking to learn the pressures of deadlines, looking to learn the basics of reporting, or learn graphic art design then the yearbook team is the place to be. Looks great on your school resume as well. Staff Zoom Meetings will be coordinated.
Adult Staff — To coach and guide our Youth Staff.
For More Information, to Email your Unit Commitment and/or to volunteer to be on Staff
John Hanks at info@powahay.com